Senna Leaf Extract Manufacturer in India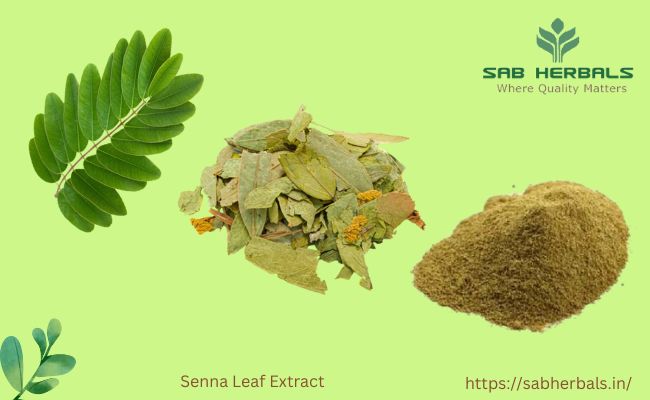 Senna leaf extract is a botanical preparation derived from the leaves of the Senna plant, scientifically known as Senna alexandrina or Cassia angustifolia. For centuries, Senna has been recognized for its medicinal properties, particularly as a potent natural laxative. Sab Herbals, a renowned herbal supplement company, has harnessed the therapeutic potential of Senna leaves to create a high-quality and effective Senna leaf extract.
1. The Senna Plant:
The Senna plant is native to various regions of Africa, the Middle East, and the Indian subcontinent. It is a shrub-like perennial plant with elongated, lance-shaped leaves and delicate yellow flowers. Traditionally, Senna leaves have been used in herbal medicine to promote digestive health and alleviate constipation.
2. Extraction Process:
Sab Herbals employs a meticulous extraction process to obtain the Senna leaf extract. Only mature and healthy Senna leaves are carefully selected to ensure maximum potency. These leaves undergo a gentle extraction method that preserves the essential phytochemicals responsible for the extract's beneficial effects.
Health Benefits of Senna Leaf Extract
1. Natural Laxative: Senna leaf extract is highly regarded for its laxative properties. The active compounds, primarily anthraquinones such as sennosides, work by stimulating the muscles in the intestines, promoting bowel movements, and easing constipation. This gentle laxative effect makes it a preferred choice for individuals seeking a natural remedy for occasional consti
2. Digestive Health: Apart from its laxative effects, Senna leaf extract 20% BP can also aid in overall digestive health. By regulating bowel movements and promoting waste elimination, it helps in reducing bloating and discomfort in the gastrointestinal tract.
3. Detoxification: Senna leaf extract is known for its detoxifying benefits. By supporting regular bowel movements, it assists the body in eliminating accumulated waste and toxins, helping to cleanse the colon.
4. Weight Management: Some individuals incorporate Senna leaf extract into their weight management routines, as it can help relieve occasional water retention and bloating, providing a temporary slimming effect.
5. Antioxidant Properties: Senna leaves contain antioxidants that combat harmful free radicals in the body. These antioxidants help protect cells from oxidative stress, supporting overall health and well-being.
Usage and Precautions
Senna leaf extract suppliers should be used responsibly and as directed. It is essential to follow the recommended dosage and not to exceed the suggested intake. Pregnant or breastfeeding individuals, children, and individuals with certain medical conditions should consult a healthcare professional before using Senna leaf extract or any laxative supplement.
Senna Leaf Extract Manufacturer
Welcome to Sab Herbals, a renowned name in the world of herbal extracts and botanical products. We take pride in being a leading Senna leaf extract manufacturer, supplying high-quality products to the global market. With a commitment to excellence, sustainability, and customer satisfaction, Sab Herbals stands as a trusted partner in the herbal industry.
1. Our Expertise:
At Sab Herbals, we specialise in the production of Senna leaf extract, derived from the leaves of the Cassia angustifolia plant. As a reputable Senna leaf extract manufacturer in India, we have years of experience and employ advanced extraction techniques to ensure that our product retains its natural properties and efficacy. This makes it ideal for various applications in the pharmaceutical, nutraceutical, and cosmeceutical industries.
2. Quality Assurance:
Quality is at the core of everything we do. As a dedicated Senna leaf extract suppliers, we adhere to stringent quality control measures throughout the production process. From sourcing the finest Senna leaves to using state-of-the-art extraction methods, our team of experts ensures that each batch of Senna leaf extract meets the highest industry standards.
3. Sustainable Practices:
Sab Herbals is committed to sustainability and environmental responsibility. We work closely with local farmers to promote eco-friendly cultivation practices for Senna plants. Our sustainable approach not only ensures the preservation of natural resources but also helps in maintaining the integrity and potency of the Senna leaf extract we produce.
4. Customized Solutions:
As a leading Senna leaf extract manufacturer, we understand that different industries have unique requirements. Therefore, we offer tailor-made solutions to meet specific needs. Whether you need Senna leaf extract for pharmaceutical formulations, dietary supplements, or cosmetic applications, our team can customize the product to match your exact specifications.
5. State of the Art Facilities:
At Sab Herbals, we take pride in our modern manufacturing facilities that are equipped with cutting-edge technology. Our advanced infrastructure allows us to produce Senna leaf extract efficiently, ensuring a steady supply to our valued customers worldwide.
6. Compliance and Certifications:
As a responsible Senna leaf extract suppliers , we comply with all relevant industry regulations and maintain the necessary certifications. Our commitment to quality and safety has earned us the trust of clients and regulatory bodies alike.
7. Global Reach:
Sab Herbals serves a diverse clientele around the globe. With our efficient distribution network, we can deliver Senna leaf extract to customers in various regions promptly.
Conclusion
If you are looking for a reliable Senna leaf extract manufacturer in India, Sab Herbals is your go-to partner. With a focus on quality, sustainability, and customer satisfaction, we strive to exceed expectations and contribute to the success of your business. Contact us today to explore our range of Senna leaf extract products and discuss your specific requirements. Partner with us for a greener, healthier world.
Contact Us
Address: SAB Herbals & Nutraceuticals, Ikghara, Bannakhera Road, Bazpur, U. S. Nagar, Uttarakhand, India
Email: sabherbals@gmail.com
Phone: +91-9837050283